RemoteKill®
Prevent asset and data theft with essential anti-theft countermeasures.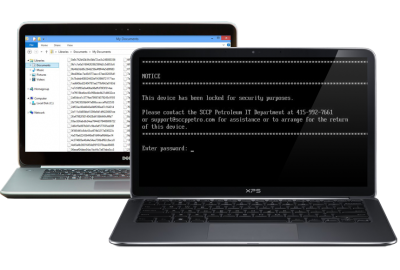 ---
RemoteKill® file encryption
Data on a compromised asset can be quickly encrypted, protecting it from unauthorized users. RemoteKill encryption works out-of-band, meaning data can even be protected from previously authorized users such as terminated employees. Screenshot >
RemoteKill® drive lockout
A compromised asset can be secured by encrypting and locking the boot sector of the hard drive, preventing access to the operating system. A bypass password option allows return to normal operation if the asset is recovered. Screenshot >
Offline Curfew™
Administrators can set a curfew for specific assets. If an asset fails to connect to a network for a specified amount of time, it will autonomously execute preprogrammed RemoteKill actions, protecting assets even if they never connect to the internet.
Geofence triggers
Administrators can constrain assets to defined geofences. When an asset violates a geofence, pre-defined RemoteKill actions will execute. Geofences can be set up as inclusion or exclusion zones.
Real-time execution
The EXO5 agent uses a persistent and secure connection that allows RemoteKill command execution in real-time. When it comes to security breaches, time is of the essence.